Team Skeet Overview
Team Skeet is the home site for the TeamSkeet network so it introduces us to its array of fresh chicks in a delicious smorgasbord of sexy situations. From their home page, you can select your movie of choice and launch it from any one of the network's twenty-one sites. Of course, you can only do that if you're a member; if you're not, you're redirected to their registration page. The network's focus is on mainly creamy-complexioned co-eds, amateurs, newbies, and fit bodies – everything newly adult and female is what they bring to us the grateful and male public. However, within that tight niche, they have a host of exciting genres to explore so you aren't spoiled for choice.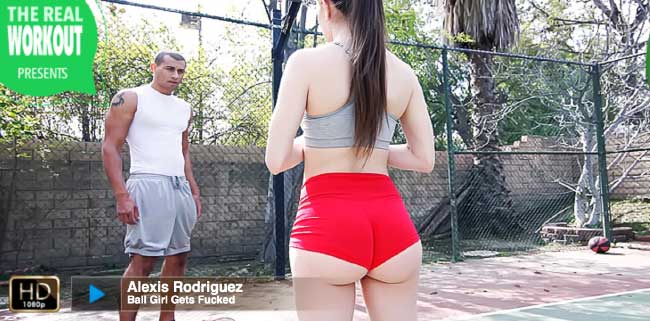 Team Skeet's Girls!
The network's theme means we're seeing girls at their best, most innocent, most enthusiastic, almost unmarked, and eager to please. We're seeing them too when sex is still a game to be played with rules that get made up as it goes along; when passions still run high and the desire to break out from conventionality is even higher. We get to see the chicks experimenting on themselves, their girlfriends, boyfriends, teachers, or indeed any older man who will let them have their way.
TeamSkeet's Home page has over sixty thumbnails of scenes and cuties that link to a video somewhere on the network. As a non-member, you get to see a number of introductory clips that provide a tasty bite of the just out of reach cherry. Those tasters are enough to drive anyone's libido wild; the girls are so adorably cute. Whether they're bouncing around athletically, or rubbing themselves to a climax, or playing nice in their classroom, or showing us the ins and outs of their uniforms, there'll be something you like.
Team Skeet's cuties come from all over the globe, Asia, Europe, and the Americas and they bring their national flavors to the movies, as well as acting out the requested fantasies of the network's members. This variety ensures there'll be something to suit your tastes, whether it's a blonde, brunette, redhead, or raven-haired hottie, or an Ebony, Asian, Latina, or Caucasian chick, there's more than one here for you. The variety doesn't end there. Although the girls are only just grown, they've all grown differently. Some are elegantly breasted, with neat titties, and others have filled out generously. The same is true of their butts, some are pert and athletic, others rounded and smackable. Some snatches are shaved, some are as nature intended, which is a plus in these modern times when every girl wants to be as bare as a new-born. If you like toys these girls do too, so you have that in common and an interest shared is an interest redoubled. For me, the girls' lack of tattoos and piercings is a delight. For you, there are enough of both to give them that edgy feel you crave. Whatever you like, if fresh chicks are part of it, this is the buffet to be at. Pull up your chair and start snacking!
TeamSkeet Network
Team Skeet has a network of twenty-one fresh chicks sites all with wall-to-wall, innocent-looking, unsullied co-eds. Joining any one of the network's sites gets you into them all, all 21 sites, all 700+ girls, and all 1100+ scenes. Some of TeamSkeets sites include, This Girl Sucks with its focus firmly on blowjobs, facials, and creampies, Oye Loca where lovely Latinas with their bodacious boobs and booties pleasure fortunate men, SoloInterviews in which fresh chicks answer questions about their masturbation techniques while demonstrating how they make their pussy purr, and The Real Workout for lovers of fit cuties who like to mix some sex into their sports and gym routines.
Protections/Security at Team Skeet
While Team Skeet's landing page does feature explicit images that link to movies or videos inside the sites, a non-member can't actually watch the movie without signing up, which requires proof of age. That way inappropriately aged visitors can't see too much porn. If you're a member, you're on a network with 100% secure, safe sites that keep your viewing private. And as required, they maintain files confirming every model they photograph or film is an adult. They also protect your information and the network's Privacy Policy explains that for you.
How Much Does Team Skeet Cost?
Team Skeet pricing starts at $1 for a two-day limited access 'taster' Trial. A taste is nice but, in the end, you're going to want a full 'meal' because there are too many incredible girls and too much content for only two days. Your options then are a month, for $28.97, or three months, for nearly $17 a month (for a total bill of about $51), or, if you really can't get your fill (and that's very likely with TeamSkeet network), a whole year for about $96 (just under $8/month). All these full memberships give you access to all the TeamSkeet network sites so this is an incredible deal. For just eight dollars a month, about 25 cents per day, you're watching gorgeous girls doing naughty things in fabulous razor-sharp movies and crystal-clear images.
Team Skeet network updates daily, has super-quick streaming movies in H and SD, MPEG, WMV, Apple, and 3Gp. They also have a mobile site to ensure every spare minute you have can be spent with the girls, and isn't that how life should be spent? In addition, Team Skeet network features unlimited quick video downloads and discounts on their partner (not their network) sites.
A simple online form and a credit card, PayPal or a personal check will get you into this brave new world you'll choose to join once you've seen their Home Page. Billing is secure, private and through a third party agent with a nondescript name that no one will recognize as porn. Your guilty pleasure will therefore be safe from the regular world's scrutiny and TeamSkeet maintains a 24/7 Helpline should anything go wrong. With all that going for you, why not go for it – and join the network that really delivers!